Case Study: Immersed
"[Their team] had to sell me SUPER HARD on fundraising via WeFunder to begin with, but in hindsight, it has given my team control over our company and out of the hands of early-stage VCs who tried to take advantage of us. ❤️" - Immersed CEO, Renji Bijoy

Immersed, a VR productivity software and XX startup, raised over $1M in a single day on Wefunder. A few days later, the team passed $2M. It's no secret that the speed of crowdfunding is one of its main benefits, but Immersed raised really, really fast.
Before we get into how CEO Renji Bijoy managed to pull this off, here are a few basic stats about Immersed which factored into his strategy:
Size of the team: 1 CEO, 7 employees
Business model: B2c2B (their individual customers encourage their employers to buy monthly software subscriptions)
Size of customer base: thousands of users/month, many working 40+ hours per week in VR
Amount raised pre-Wefunder: $1.75M
Renji's personal preferences and habits also factored into his strategy, especially the social media component– he chose to use Facebook, Instagram, and Twitter because that's where he engages most with his online network. There's a ton of flexibility when it comes to which social platforms founders should use and what they should say about their launch and, ultimately, the best course of action will be founder-specific.
Without further ado, here are Renji's tips for raising a killer round on Wefunder:

Pre-Launch Prep
Choose your launch day carefully. Renji picked a "boring," slow day of the week to launch his round because "it gives people the flexibility and desire for dopamine to help hype up your campaign." He chose Thursday but deemed Tuesday and Thursday to be ideal launch days.
Poll your customers. 2 weeks prior to launch, Renji sent a poll via Discord to his current user base to gauge how likely they were to invest via a Reg CF round. (Discord is a messaging software similar to Slack that Immersed uses for customer service so it made the most sense to poll users there.) The results also helped Renji to put a bit of pressure on professional investors who had been eyeing Immersed but hadn't invested yet.

*We recommend doing this type of pre-Form C filing recon only after laws change March 15th!*


Generate FOMO in rich and professional investors you've met. For background, Renji went through Techstars Chicago, a global startup accelerator, in 2017 and has been making connections with high net worth investors since then, both in-person and via LinkedIn. Most of his networking has been in the context of smaller fundraises. He kept in touch with any investors who expressed interest in Immersed (even if they didn't invest) by adding them to an email list where he shared monthly updates on the company's progress. He communicated with future hires, professional investors (VCs), and other founders through this same list. There's no question that the recent updates Renji had shared with this group were already generating FOMO in investors– Immersed had recently announced a partnership with Facebook and Renji had an interview with BBC on his calendar. They were feeling the heat.

After getting the poll results, Renji pinged this group to further ramp up the pressure. This pre-launch email tipped off investors that the company wasn't necessarily dependent on their funding and that, if they wanted to get in on the action, they'd better move fast.
Film your videos. Renji recorded two separate videos: one for his personal social media push and one for the Wefunder pitch. He knew each video would be reaching a different audience so he approached each with a specific strategy.

- For the personal social media video, Renji kept the runtime to 2 minutes. He knew attention spans are short and that his personal network already knew the product. Plus, if a user outside of his network came across the post and wanted to learn more, the Wefunder link was included in the post. After filming the video, he uploaded it to YouTube as an unlisted link to use to recruit his core network.

- For the Wefunder pitch video, Renji "decided to just shoot for immediate clarity, concisely sharing who we are, what we built, and what the future vision is, followed by our product trailer (easier to "show" the product than just "tell")."
Recruit your core network. 4 days prior to launch, Renji recruited 40 people in his personal network that he knew would eagerly invest and evangelize. He shared the unlisted YouTube link with them and asked that they invest immediately via Wefunder. He also gave them a heads up that he'd be reaching out on the day of the launch to enlist their help in boosting his social media posts.
Choose your Lead Investor carefully. Renji chose Daniel Ha as his Lead Investor for the round. Daniel is not only a co-founder and former CEO of Disqus but had become familiar with Immersed's product and mission as an XX partner. That Daniel was already familiar with Wefunder's crowdfunding process was a huge plus.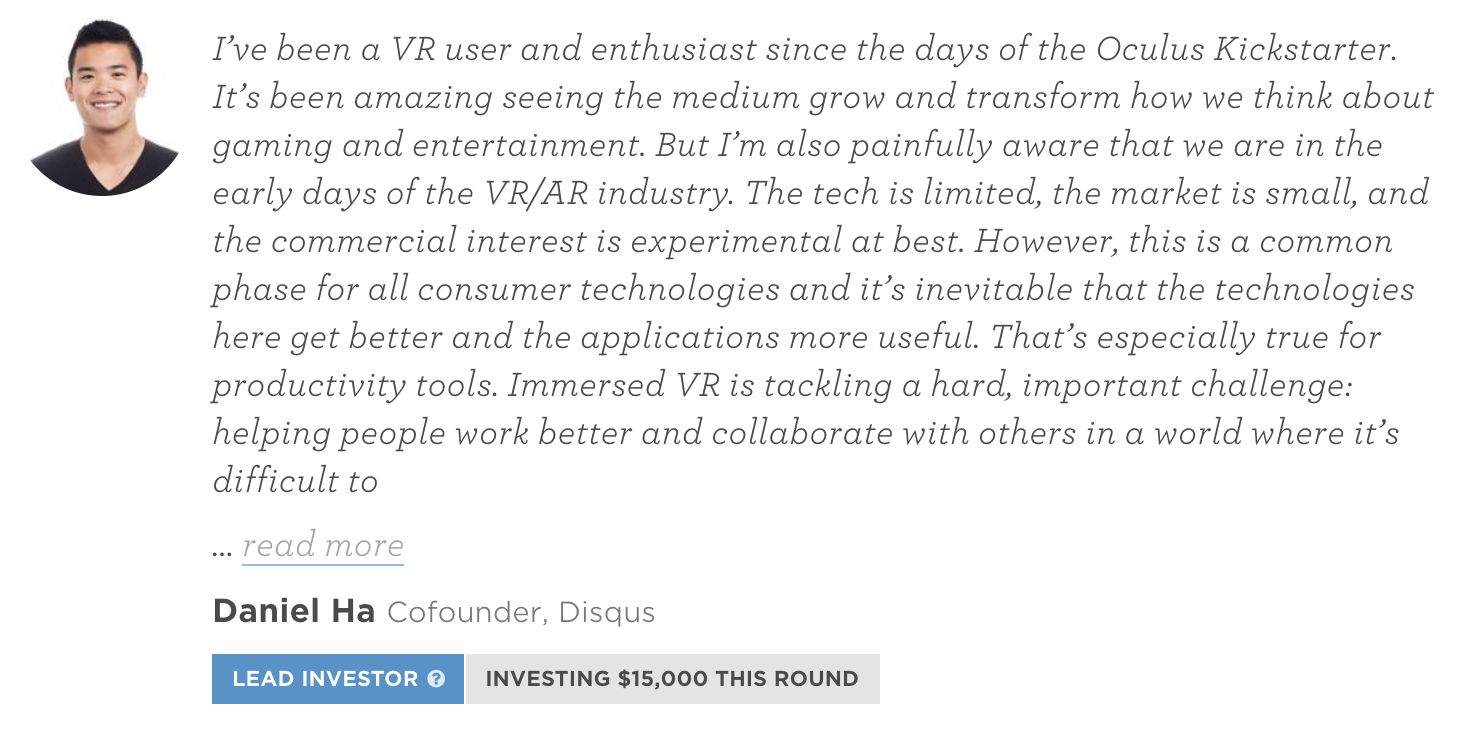 Build out your Wefunder pitch. Renji wanted to raise funds as quickly as possible– $1M in one day was his goal. Feel free to check out Immersed's pitch here. For pitch best practices, head over to Wefunder's example pitch.
Moment of Launch Tips
Schedule your video posts. Renji scheduled his personal Facebook and Instagram posts so that they'd drop right when the Wefunder pitch went live. He was also careful to upload the videos directly to these platforms because newsfeed-algorithms suppress external YouTube links.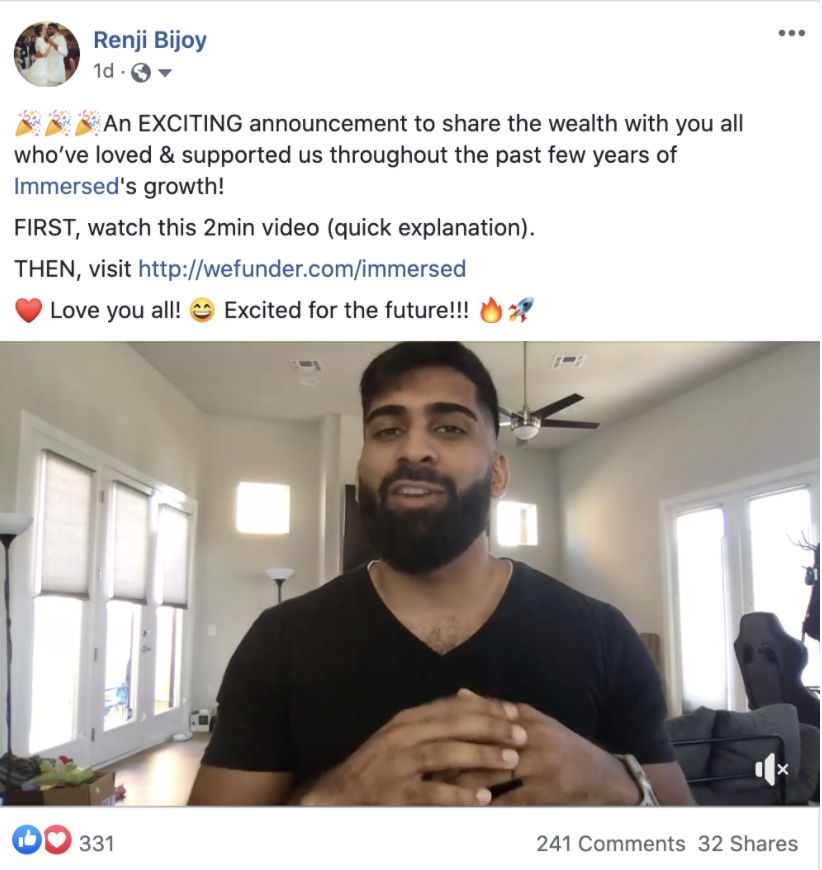 Reach out to your core investor network. At the moment of launch, Renji sent a text to his 40 person network with clear asks about engaging with his posts and reaching out to their own networks. He asked them to like, comment, and share his Instagram and Facebook posts and text or call anyone they thought might be interested in investing.
Work the algorithms. Renji liked and replied to every comment on his Facebook and Instagram video posts, immediately. The volume of traffic boosted the post and ensured that it showed up on more newsfeeds. As a bonus, this easy type of engagement goes a long way with investors. The post ultimately reached 10,000 people.

These tactics got Immersed to $880k (!) but, around noon, Renji sensed a slight decrease in investment traffic to their Wefunder pitch. He doubled down on spreading the word...

Tips for Pushing Past the Plateau
Engage your fans/users. Renji shared the Wefunder pitch link via Immersed's Twitter account to reach the software's users and VR fans who follow the account. He also sent a message out via Discord.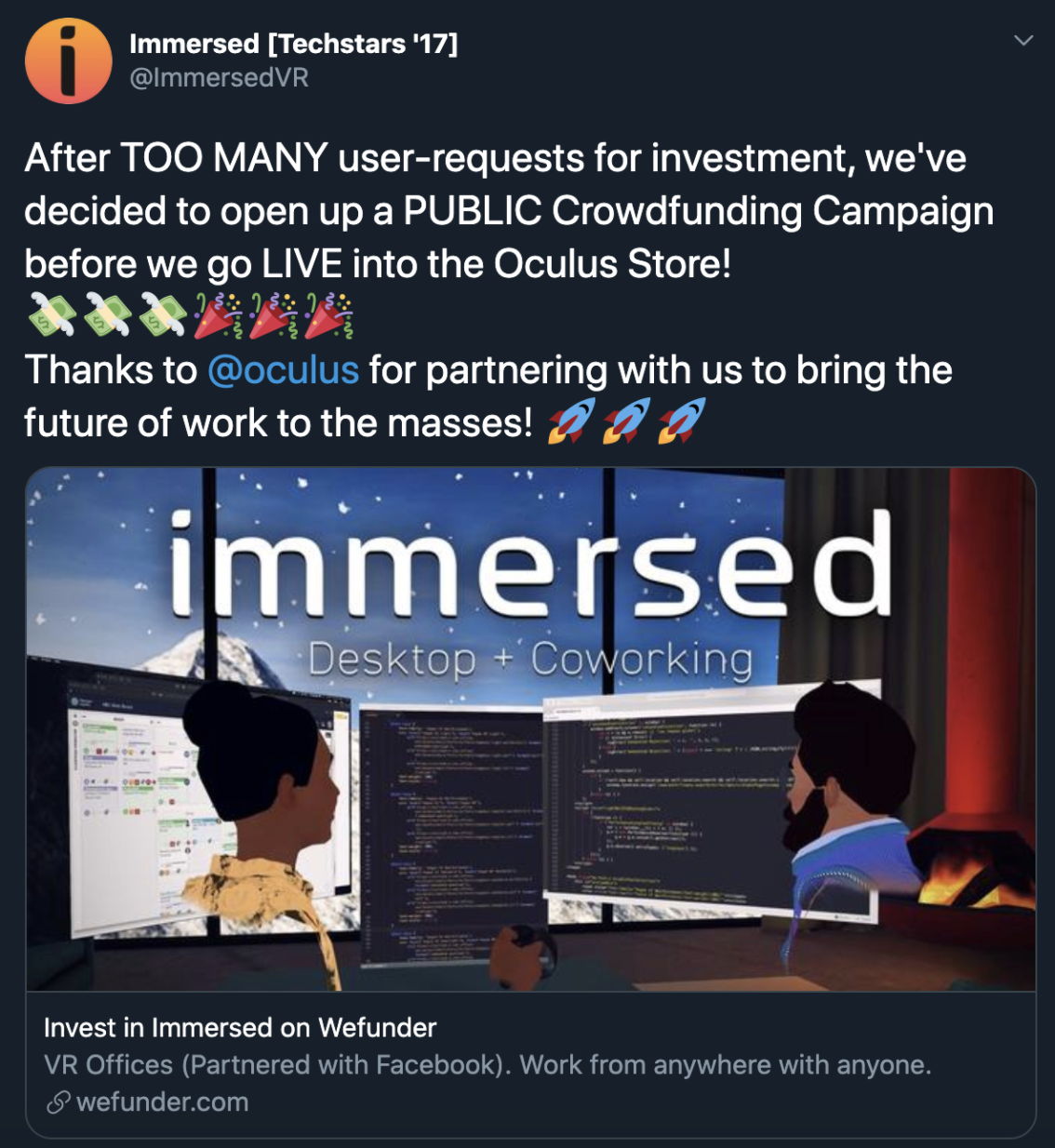 Ping all of your mailing lists. Renji again emailed his mailing list of high net worth investors, future hires, VCs, and other founders that he'd shared the Discord poll results with. He also pinged another mailing list of current and past users. Renji credits this mid-round email as bringing rich and professional investors' sense of FOMO to a boiling point – many investors who had already invested doubled back to invest more.
Engage industry enthusiasts. Renji then panned out and posted to 50 different Facebook VR Groups using his personal FB account, reaching 35,000 people.

For more campaign tips, head over to our fundraising playbook.