New feature update: Annual Report Generator
What is an annual report?
To launch a crowdfunding campaign, founders file a Form C with the SEC. This Form C discloses everything there is to know about a company, but unfortunately is written in legalese incomprehensible to the majority of us. This is problematic because founders need to prepare it and investors need to review it in order to decide whether or not to invest (more on this in a bit). After the campaign, founders are required to file an updated version of the Form C every year — this is the annual report. The point being that things change rapidly in a business, and the SEC and investors should know about these changes.
(It's been a bit): We're not a fan of legalese here. Our mission is all about democratization so making the Form C approachable was important to us. We created tools to help generate Form Cs, and we've now created a tool to generate annual reports. Next, we're going to change the way Form Cs are shown to investors altogether (more on this much later).
Which companies need to file an annual report?
The reporting requirements are:
File one annual report if you have fewer than 300 shareholders
File three annual reports if you have more than 300 shareholders but less than $10 million in assets
File every year if assets are greater than $10 million (lucky you)
None required if your company is dissolved or liquidated, or if you repurchased all issued shares
When does this happen?
Yearly, 120 days after the end of the company's fiscal year. Since fiscal years typically end on 12/31, that makes the effective due date 4/30 of every year. Our internal deadline is 4/20 to reserve sufficient time for actually filing these reports. Did I mention the SEC's website has hours? They're closed at 7pm and on weekends.
What needs to be updated?
Changes to the leadership team, additional fundraises, financial conditions, or other changes that could potentially affect investors. Most times though, not much will change other than updates to financial numbers, your past fundraises, and cap table.
How did we do this before?
By hand and trusty Excel docs! As you can imagine, it was terribly inefficient. So this year, we decided to create a tool for it.
What problems were we trying to solve?
We had no way for founders to provide the information needed
We had no way to collect and consolidate the information provided
Communication was largely based on email
Everything was tedious and life sucked.
Those of you who have not raised funding through us before probably don't know about the Disclosures Editor we created to help founders file Form Cs with the SEC. You provide all the information, hit a button, and we generate a Form C for you. We do rounds of reviews, but you are also welcome to make edits to the Form C until you are 100% happy. We then file the Form C with the SEC and voila, you are ready for fundraising.
The Annual Report Generator is largely modeled to follow the same format. Around a month before the annual reports are due, you'll be notified that it's that beautiful time of year again. You'll be linked to the Annual Report Generator to input the information. When you complete the fields to the best of your knowledge and without any glaring mistakes, we generate an annual report and file it with the SEC. Not so bad, right?
So show me this thing already!
Ok, ok. So here is what it looks like: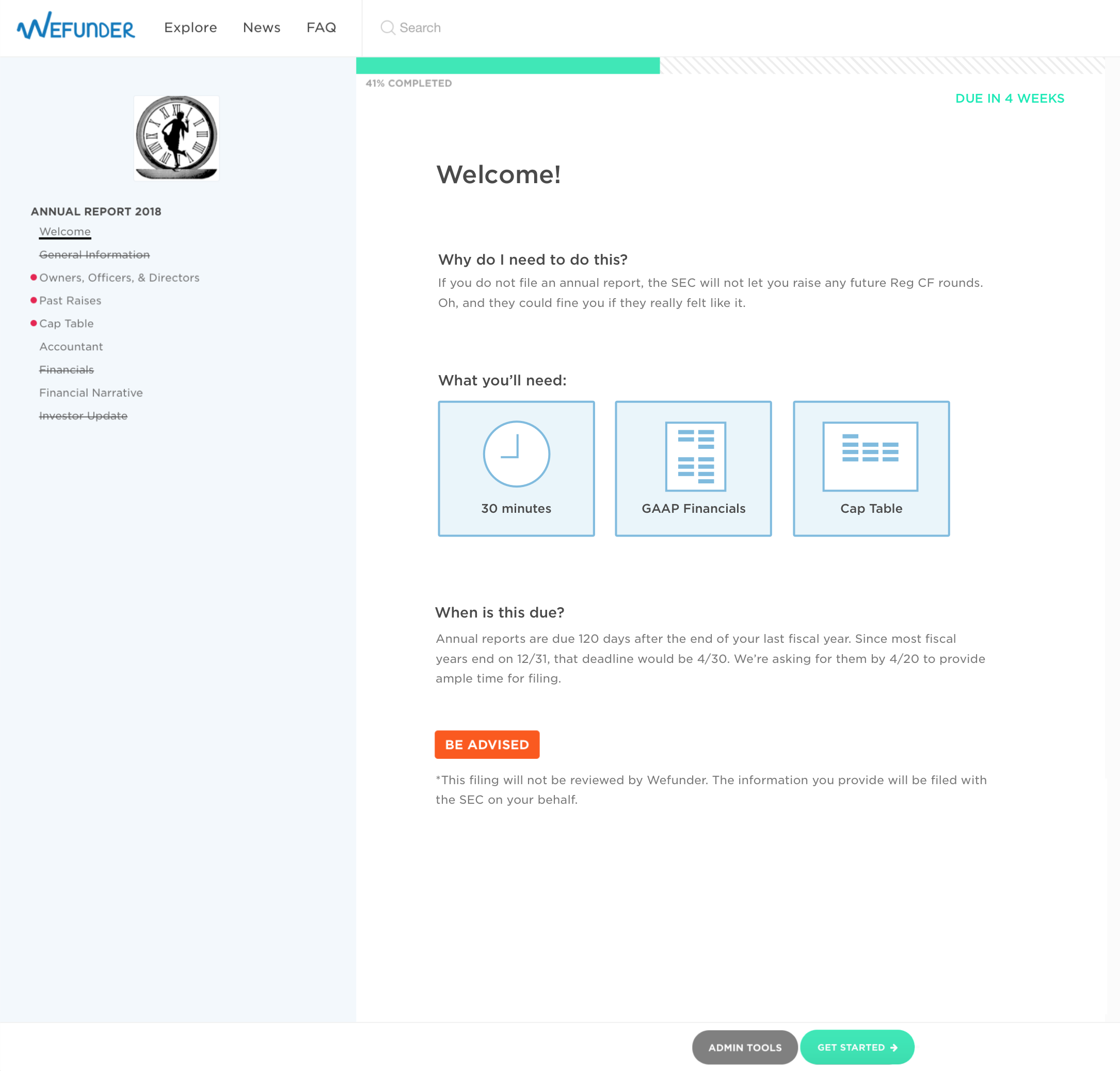 ---
Let's break this down page by page!
Page 1: Welcome! (Nothing to do here)
What this is, why you need to do it, what you'll need, and a handy (and slightly guilt-inducing, hopefully) countdown to the due date.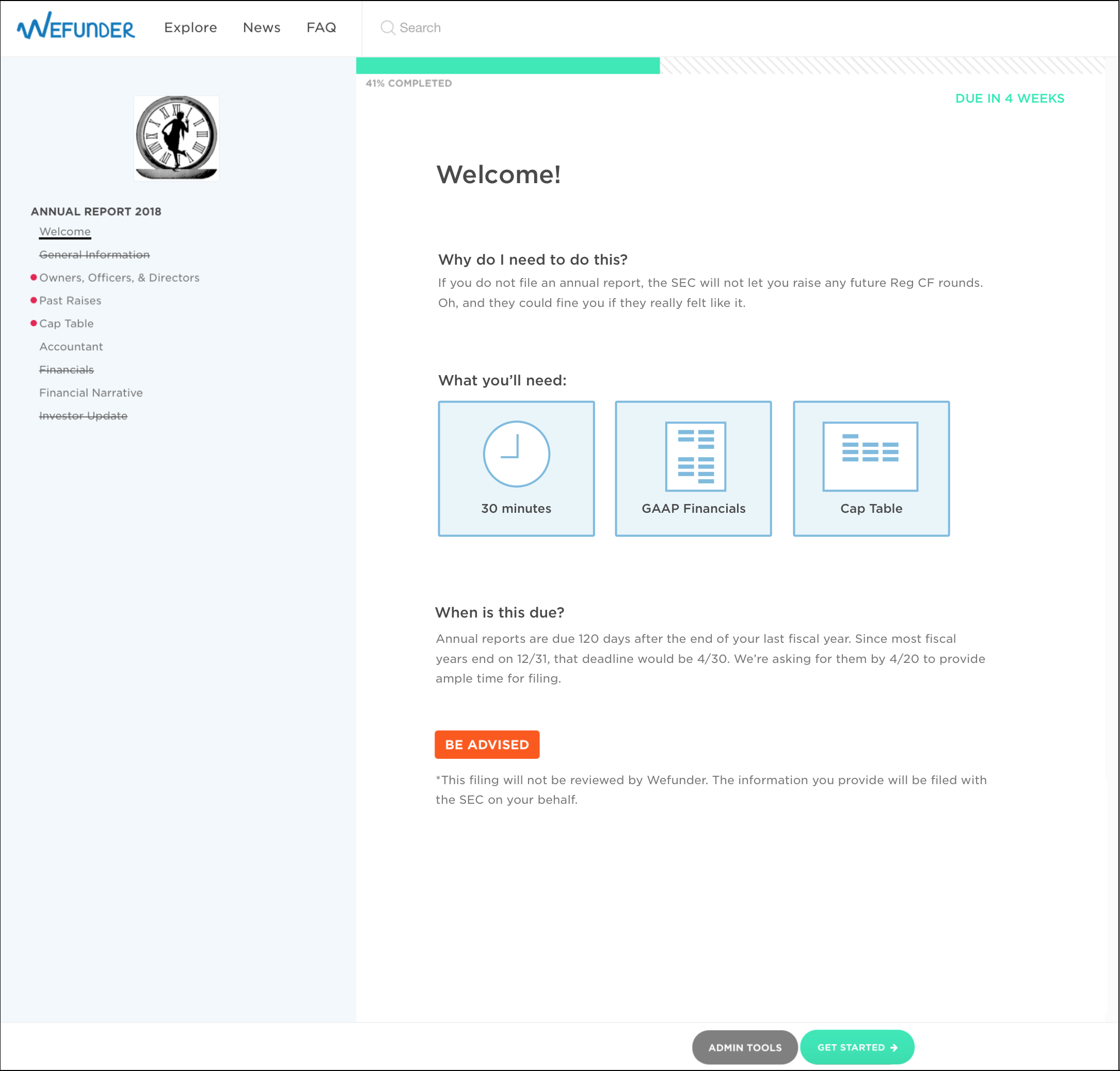 Page 2: General Info (10 second glance)
Company name, address, etc. All this should be filled out already, so all you need to do is double check everything.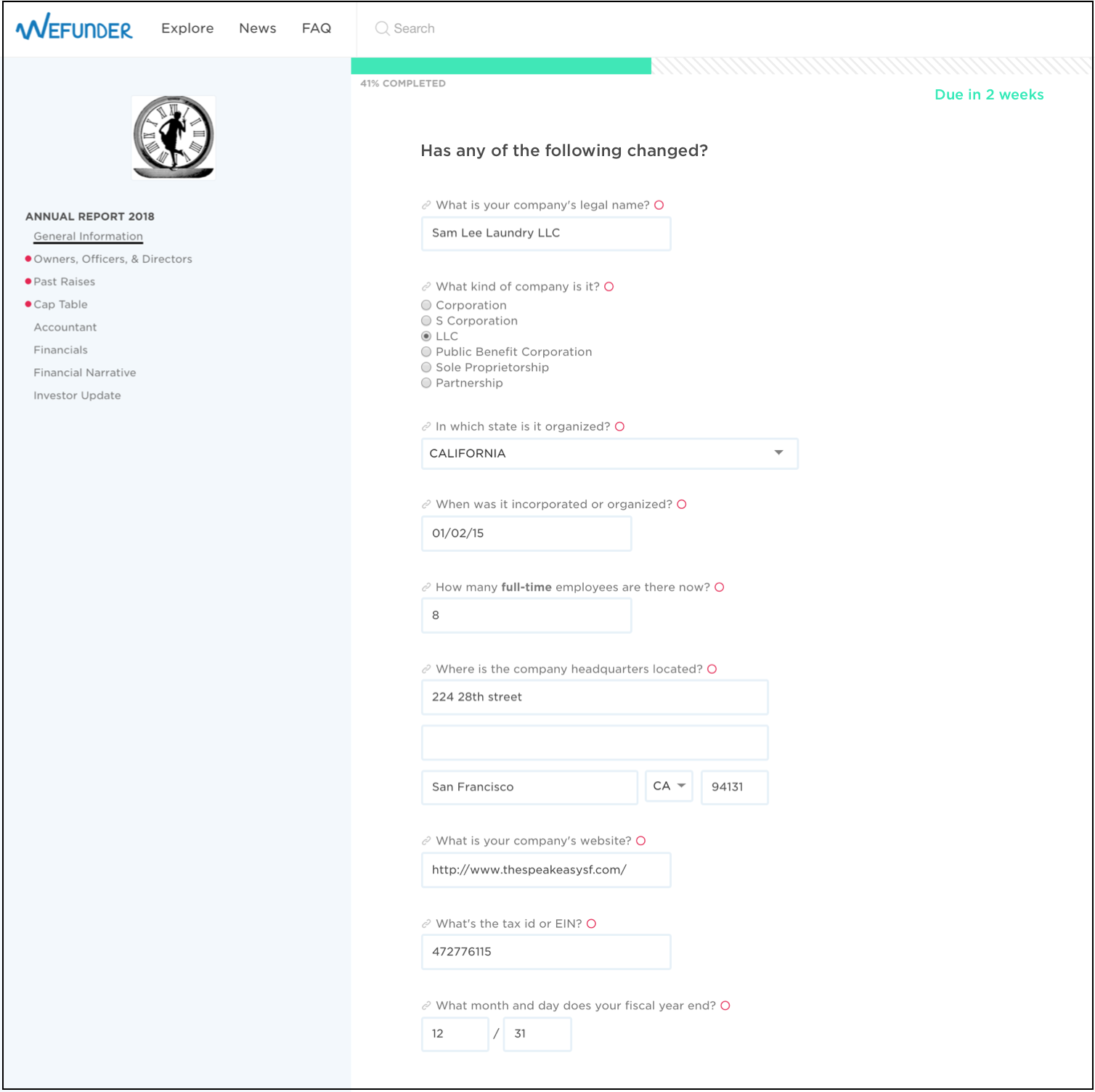 Page 3: Owners, Officers, & Directors (another side-eye glance)
You should have this portion filled out already. No changes? Great, you're done! Were there changes? Just add them in!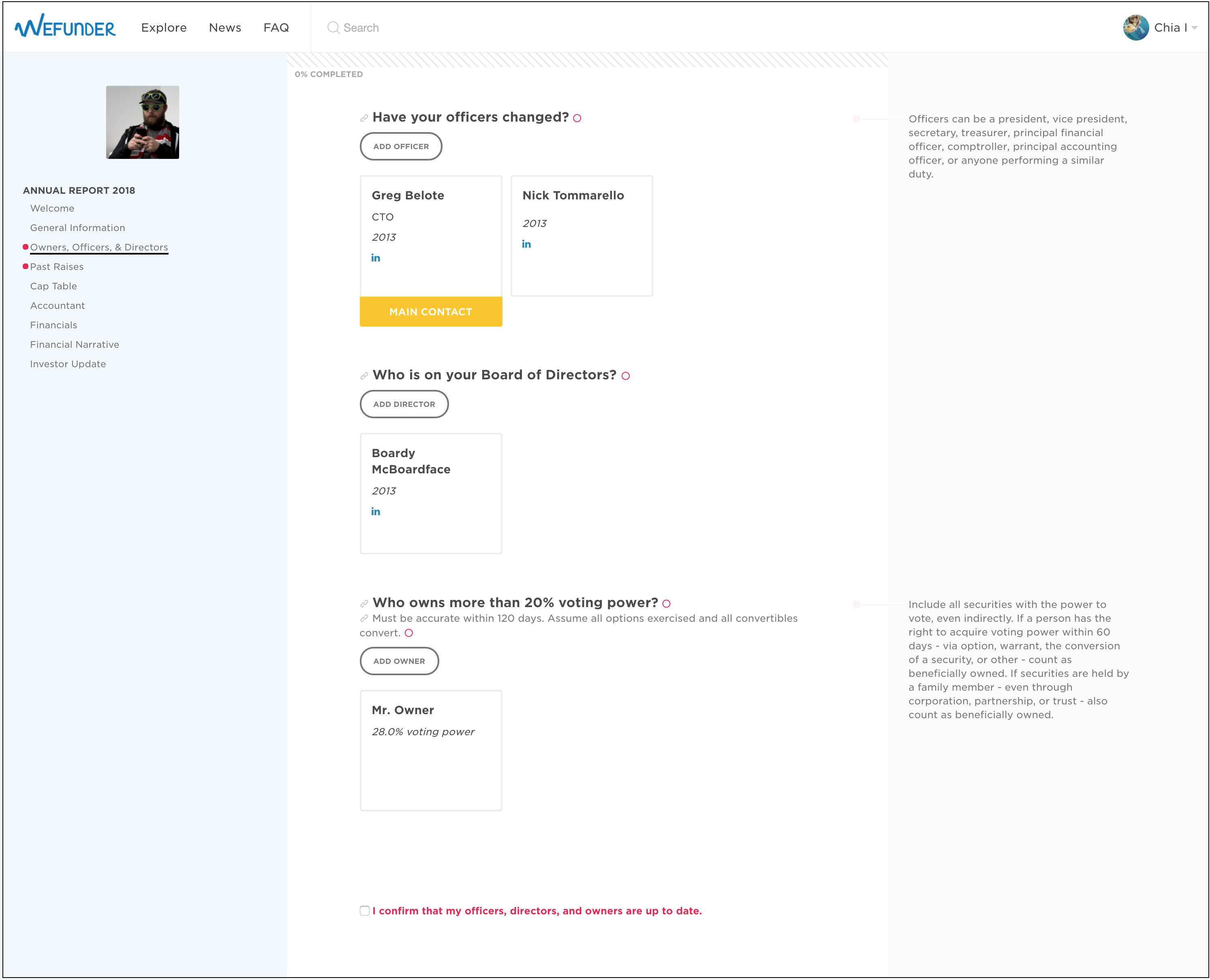 Page 4: Past Raises (easy peasy)
It could get confusing here, but you have to list all instances where you've received funding. Money from your grandma who gave it to you because you're her sweet Greggles wouldn't have to be included.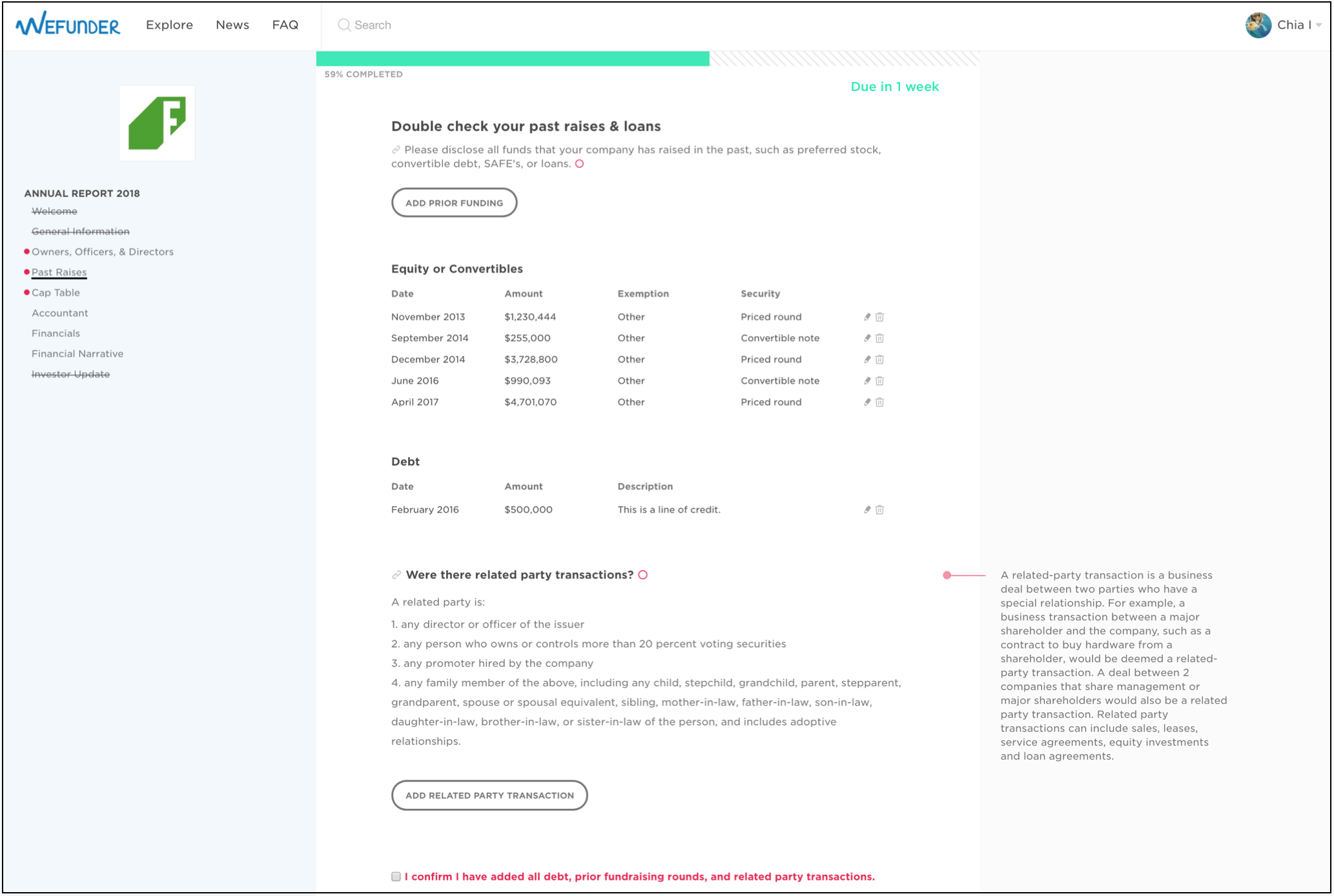 Page 5: Cap Table (lemon squeezy)
There could be possible changes to the cap table. Did employees exercise options? Transfer numbers from your most up-to-date cap table.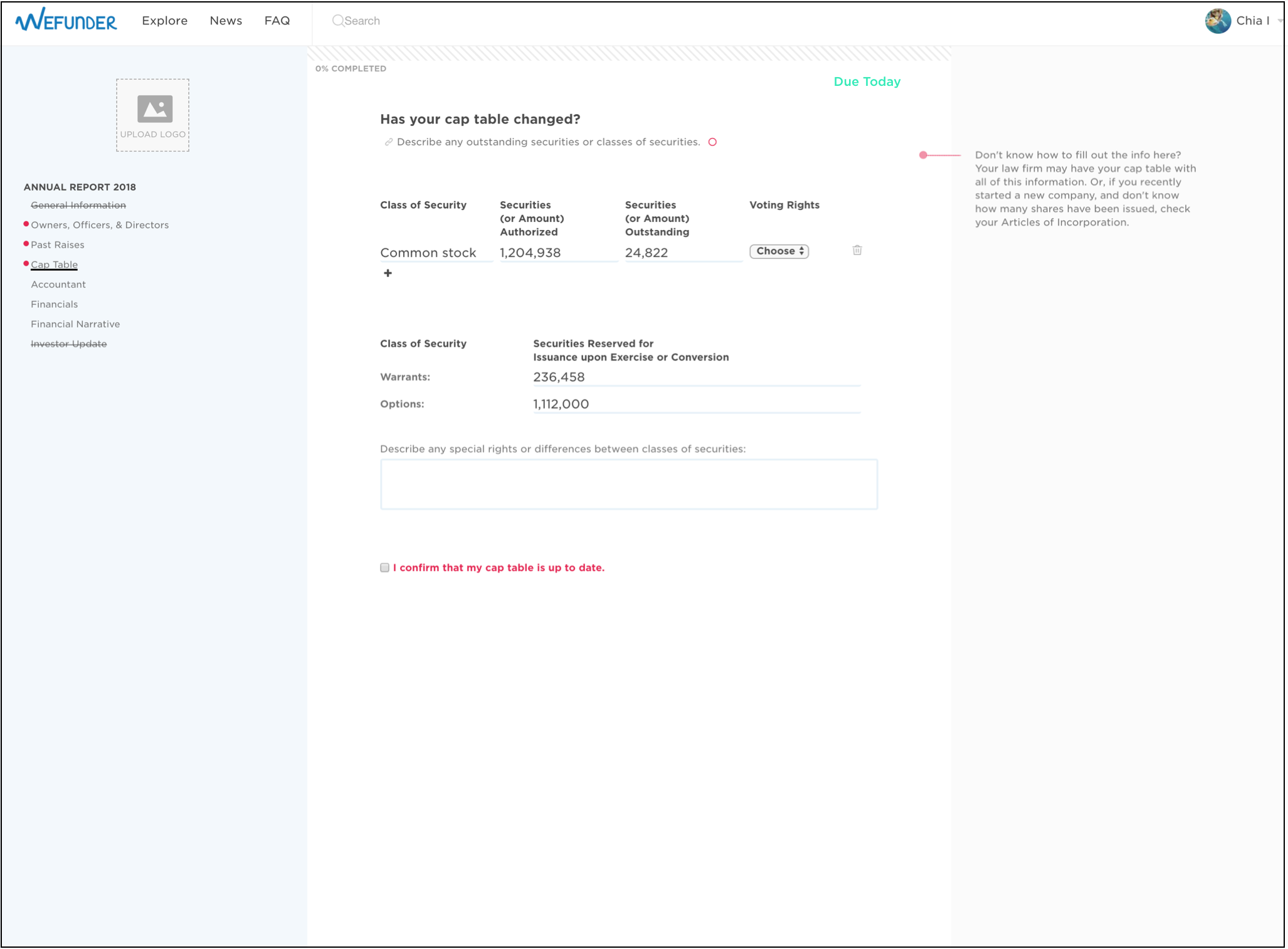 Page 6: Accountant (might take time, mostly waiting)
In the original fundraise, you're required to provide two years of GAAP financials. If you're raising more than $107K, you'll need the financials to be reviewed by an independent CPA. We have CPAs we work with who are available to help if you do not have a CPA of your own — simply click a button and we'll send an intro.
For annual reports, since a year has passed since your campaign, the financials you provided are now one year outdated so we'll need you to provide updated financials. If you prepare your own financial statements, please make sure to format according to Generally Accepted Accounting Principles (GAAP) and have it certified by the principal executive officer of your company.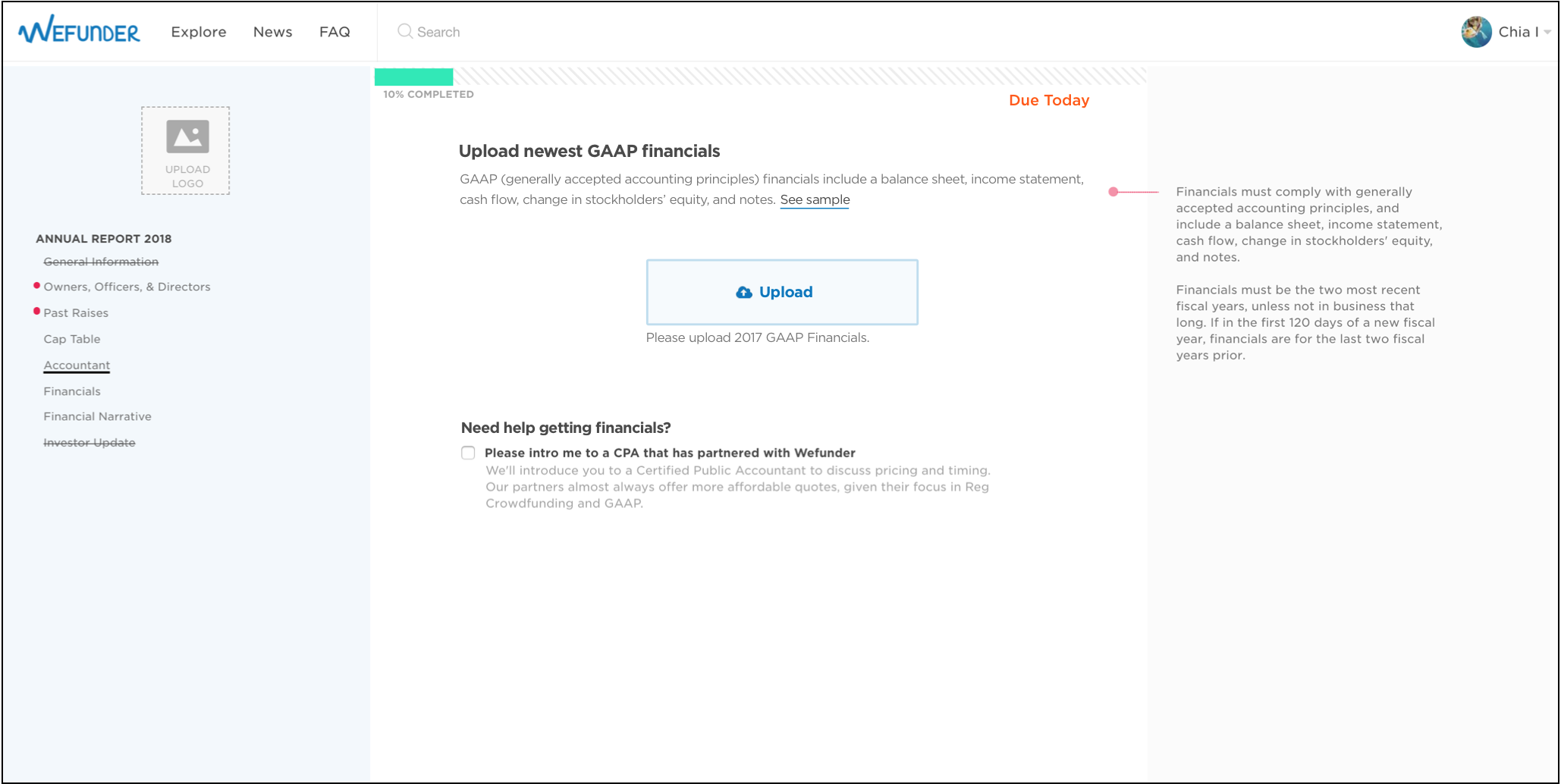 Page 7: Financials (Copy & Paste)
Use your financial statements to fill out numbers like cash on hand, revenues, and expenses. You should have these numbers already, so it's just a matter of plugging them in. We collect these numbers not only because they're required, but also because we use them to generate the financial narrative draft for you.
What's the financial narrative? That's coming up next.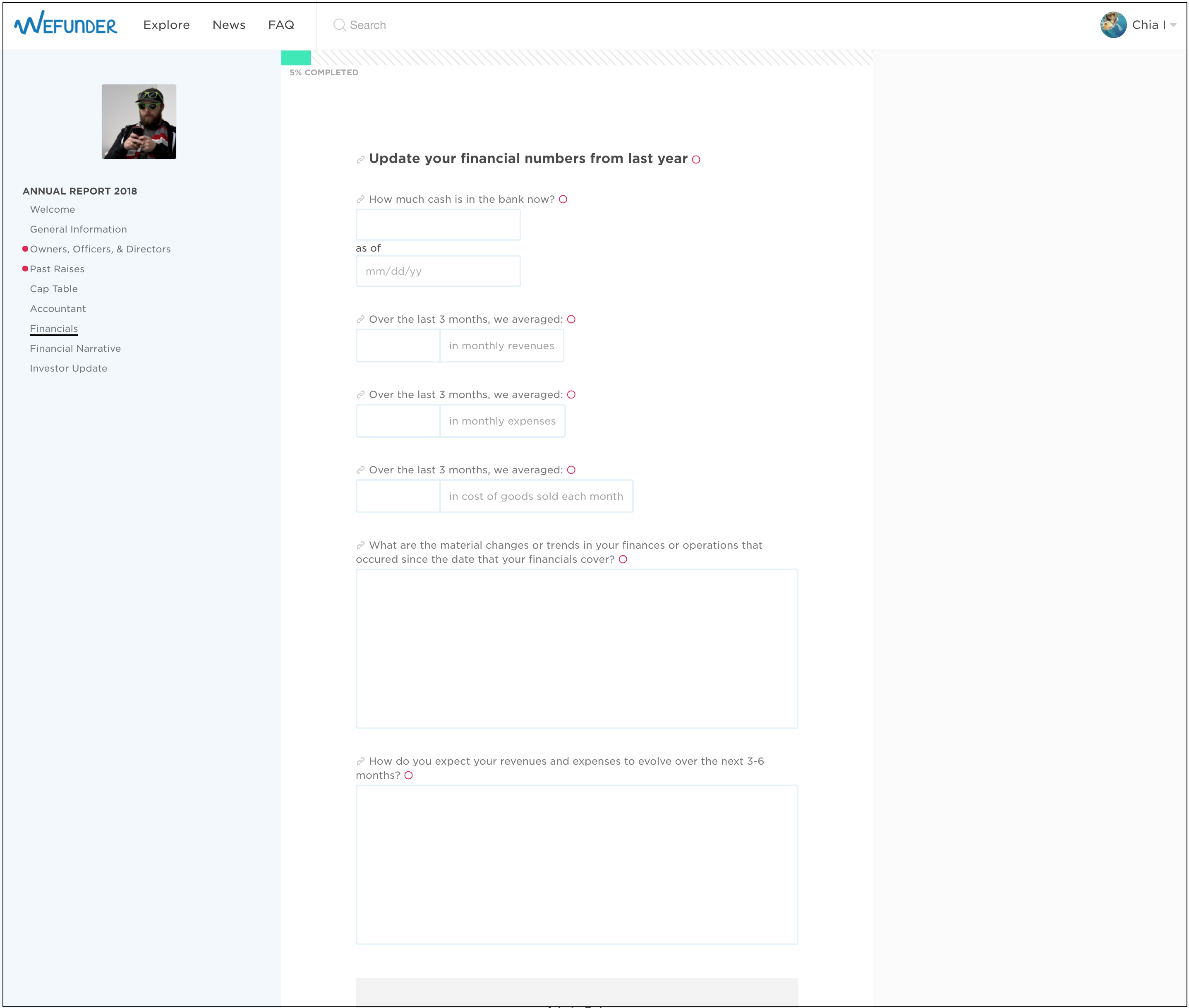 Page 8: Financial Narrative (Bulk of your time)
The financial narrative is the hardest part of filling out a Form C because the SEC has numerous guidelines on what information and numbers they require, so we decided, "You know what? We're going to automate this!"
The narrative describes the general health of a company and includes numbers like cash on hand, revenues, and expenses. Luckily, we generate a draft for you using the numbers you provide in the previous step.
Give it a read over and edit to the best of your ability without deleting the key numbers you provided in the previous step (which are required by the SEC).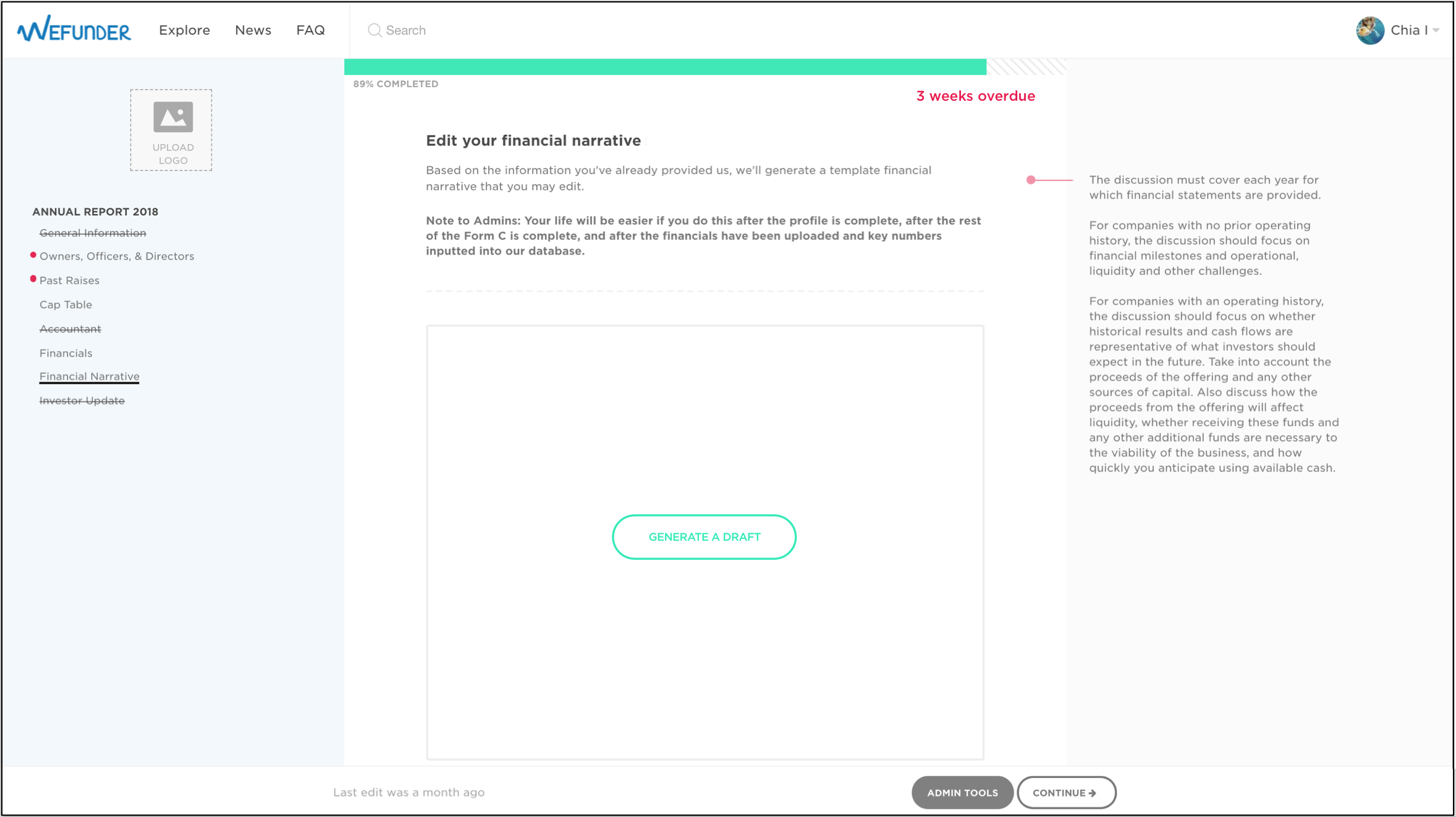 Page 9: Investor Update (The fun part!)
It's great that the lovely SEC is getting an update. But your investors would love to hear from you too! Before filing the entire report, add a little note to your investors telling them, in human words, how this past year has been. We have a template that helps you come up with things to talk about.
All this stuff has to go somewhere right? So in addition to filing with the SEC, we want to make it visible to users in a friendly way. When we're done designing that, this letter will be front and center, so be sure to make it good!
Last step: Press that big green button! (The big hurrah!)
Press that big green button and generate your draft annual report! You'll be able to edit the annual report or share it with your lawyer to edit. When you deem it 100% ready to go, simply sign off and we'll take care of the rest!
That wasn't so bad right?
---
Remember our problems we wanted to fix?
We had no way for founders to provide the information needed
We had no way to collect and consolidate the information provided
Communication was largely based on email
Everything was tedious and life sucked.
This tool resolves the 1st, 2nd, and 4th bullets. Though communication is still based on email, we've created a reminder system and email templates that will regularly nudge founders to finish.
This tool is far from perfect, so we need your help!
What do you think?
This is our first iteration of something that'll require loads of iterations. Want to help us get better faster? Let us know where you ran into trouble, and we'll try our best to fix it! Email [email protected] or comment below.
What's coming next:
The investor-view of the annual report that I mentioned earlier. We figured that the investors would love to get the same update as the SEC — except in a written-for-humans-not-lawyers kind of way. Not that lawyers aren't humans, but you gotta admit that legalese is almost alien to most of us. But we're reimagining what these reports can look like, so stay tuned.
Thanks for reading! More coming soon.